OK this is I believe my 5th batch of brownies. Each time I've been gradually tweaking the recipe, with the goal being to require as little additive ingredients as possible, and still come up with a tasty treat.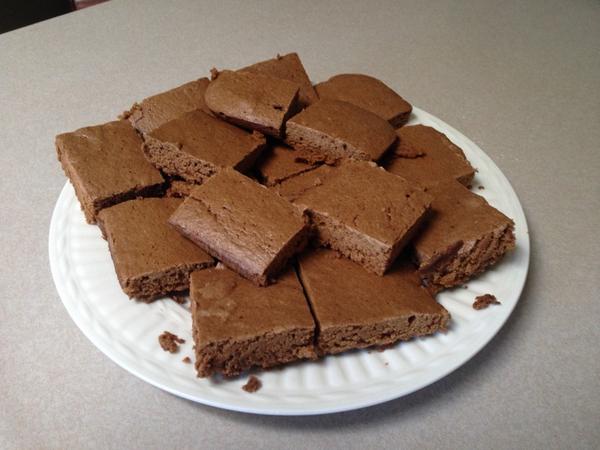 This batch is quite yummy, and has a fantastic slightly-hard crust on top, with a chewy but not-too-dense brownie body. They came out quite thin because I used a pretty large dish to make them in, but that actually made them cut a little cleaner, as they didn't stick so much to the knife.
Here's the exact recipe and steps I took, in case anyone would like to replicate my results:
Microwave Soylent Brownies - @vanclute Edition (beta version 0.5)
1 bag Soylent
2 tbls cocoa powder
1/2 tsp baking soda
1/4 cup brown sugar
1 egg
1/3 cup oil (or 1 bottle of oil blend)
2/3 cup water
Add water as needed in 1 Tbls increments
Combine all dry ingredients
Blend wet ingredients in large bowl, as ultimately it will hold everything. Mix thoroughly, even whipping
the eggs up a bit to make the brownies a bit lighter.
Slowly add the dry ingredients into the large bowl of wet ingredients.
Grease a microwave safe dish and pour in mixture.
Cook on high for 8-12 minutes. Cook time will vary depending on microwave power, I did 9 minutes and have a reasonably powerful microwave but nothing crazy.
Let cool for ~30 minutes before serving. Ideally, Let cool overnight in the refrigerator before serving.
EAT! NOM NOM NOM.
Optional step - share with others.